"Invite Only: VR" is a game that focuses on JUUL/e-cigarette prevention in adolescents. You take on the role of Mike, a high schooler who needs to get an invite to the biggest party of the year. With the assistance of a mysterious texter, Mike can learn how to get the invite. The game helps teach players about peer pressure, the effects of JUUL/e-cigarette addiction, and where to find resources for those struggling.
My internship with the play4REAL XR Lab started in the spring semester of my junior year. One of the first tasks I had was to playtest the second build of the game using the VR headset. After the playtest, I gave feedback to the team on bugs and possible suggestions to enhance the game. Some suggestions included:

-Adjusting the characters' personalities (with a greater focus on Mike's friend, Anthony, being more likable).

-Creating more interactions for the player. These included creating item interactions for the player and testing other activities such as the Space Cats minigame.

-Character placement in the cafeteria segment so the player can have one-on-one interactions with specific characters. These small details helped with worldbuilding, exploring the environment, and learning more about each character.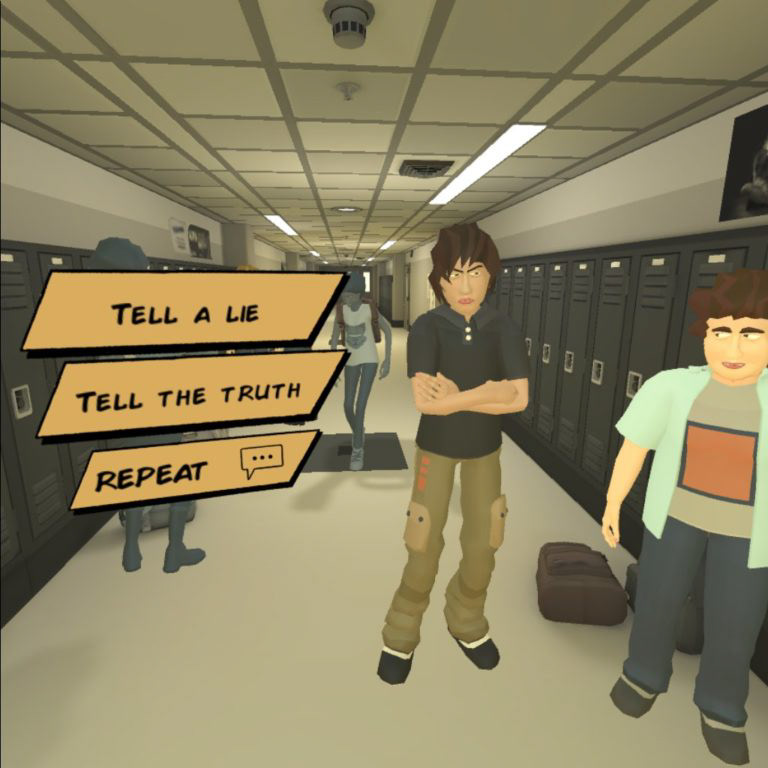 I assisted in editing the character's dialogue to be engaging for an adolescent demographic. My tasks included rewriting scripts with new plot developments and connecting choice-based dialogue decisions to the correct responses.

I also helped in developing the character Yumi, Mike's childhood friend. Yumi struggles with a vaping addiction, so the player must learn how to educate Yumi on the dangers of e-cigarettes. Talking to Yumi helped students find resources if they or someone they knew was struggling with addiction. Communicating with Yumi also helped to reinstate the facts the player learns about vaping through verbal repetition.
I helped in researching JUUL/e-cigarettes. The research focused on the effects of e-cigarettes on students and how one can become addicted. To help communicate this information to the player, they can interact with a JUUL advertisement to see how the ad aims to a young demographic. This activity uses visual education techniques to teach players how an ad can affect a student's mind.

I also researched the effects of cannabis vaping. When talking with Matthew, the JUUL pod dealer, he tries to convince the player to try cannabis vaping. The player must refuse the peer pressure. Players can tell Matthew about the legality of dealing marijuana to underage kids. They can also explain the effects marijuana has on students, such as nausea, anxiety, and hallucinations.